The 2023 NFL offseason has seen more than its share of big moves, as players like Derek Carr, Jimmy Garoppolo, David Montgomery, Miles Sanders, Brandin Cooks, JuJu Smith-Schuster and Darren Waller (among others) will be wearing new uniforms. As we get closer to the NFL draft, however, there's still plenty of potentially huge and fantasy beneficial moves that can be made on the transaction report.
I offered up a wish list of transactions at the start of NFL free agency. Some of those are still in play. Here's my updated list of the 10 NFL moves that haven't yet happened that I'd love to see go down both on the field and from a fantasy football perspective. Let's start things off with a move that would be a real coup for fantasy fans … and Patrick Mahomes.
1. DeAndre Hopkins is traded to the Chiefs
This was one of my original offseason fantasy wishes, but it hasn't yet happened. It would be a great fit both in real and fantasy football, as Hopkins is on the trade block and the Chiefs have lost JuJu Smith-Schuster (Patriots) and Mecole Hardman (Jets) to free agency. Also, think of Hopkins catching passes from Mahomes! Count me in.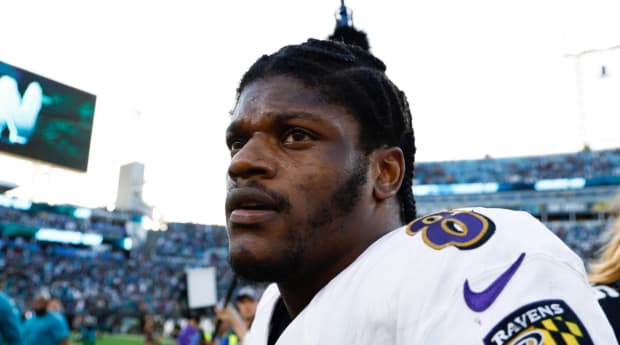 2. Lamar Jackson is traded to the Colts
Jackson might have played his final snap with the Baltimore Ravens, as the two sides seem to be at odds over a new contract. So, how about a deal that sends him to the Colts? Imagine Jackson's speed on turf and playing in a backfield with a star running back in Jonathan Taylor! That's enough to excite all fantasy managers.
3. Ravens draft Florida QB Anthony Richardson
In the above Jackson trade scenario, the Colts would send the fourth overall pick in the draft to the Ravens. Baltimore would then go ahead and use that selection to add their next franchise quarterback in Richardson. He's a mobile quarterback akin to Jackson, and he'd be entering what should remain a run-heavy offensive attack.
4. Odell Beckham Jr. signs with the Ravens
The Ravens have big-time question marks at wide receiver, so adding Beckham Jr. to come in and be their No. 1 option (or at least No. 2 behind Rashod Bateman) makes a lot of sense. These scenarios would give the Ravens an offense that includes the rookie Richardson, J.K. Dobbins, Bateman, OBJ and Mark Andrews.
---
• Fantasy Impact: Adam Thielen | Brandin Cooks | Mike Gesicki | Jamaal Williams | Miles Sanders | JuJu Smith-Schuster | Baker Mayfield | David Montgomery | Allen Lazard | Rashaad Penny | Darren Waller | Jakobi Meyers | Jimmy Garoppolo | Derek Carr | Dalton Schultz | Devin Singletary | Damien Harris
---
5. Austin Ekeler is traded to the Eagles
As a Dallas Cowboys fan, I'm afraid the Eagles will draft Texas RB Bijan Robinson. Not that I love this move either, but Ekeler would look good in a Philadelphia offense that will remain one of the league's best. Ekeler would quickly jump the injury-prone Rashaad Penny on the depth chart and remain a top-notch fantasy running back.
6. Aaron Rodgers is traded to the Jets
I'm joking here, but maybe I'm not – because this move hasn't happened yet! It seems the Green Bay Packers and Jets are playing a game of trade chicken, and neither has shown signs of folding. Rodgers would be a great fit for the Men in Green, who now have Garrett Wilson, Allen Lazard and Mecole Hardman in the pass attack.
7. Ezekiel Elliott signs with the Buccaneers
Elliott has to land somewhere, and Tampa Bay seems like a good fit. Sure, the team could draft Robinson to be their new top back, but if that doesn't happen how about a committee with Zeke and Rachaad White? I don't think Elliott is totally washed up, and White could play the "Tony Pollard role" in the Buccaneers offensive attack.
8. Leonard Fournette signs with the Cowboys
Pollard is the clear cut top running back in Dallas, but I don't think Ronald Jones is the answer as the No. 2. Fournette could come in and be what Elliott was last year, and he would come relatively cheap, too. I don't think this would hurt Pollard either, as he was the RB8 last season even while Elliott saw 248 scrimmage touches.
9. Allen Robinson is traded to the Panthers
The Panthers have signed Adam Thielen at wide receiver, but this team still needs a lot more help at the position. The Rams might already be soured on Robinson, who would be a cheap acquisition in a trade and could become the top wideout for the Panthers. This potential move would open up another possible scenario, too…
10. Kenny Golladay signs with the Rams
Let's be honest. Golladay signing with the New York Giants was one of the worst free agent moves ever in any sport. The best way to revive his value would be to sign with the Rams and be reunited with Matthew Stafford, who was his quarterback in Detroit when he was a fantasy star. Golladay would be the WR2 for the Rams.
---
Michael Fabiano is an award-winning fantasy football analyst on Sports Illustrated and a member of the Fantasy Sports Writers Association (FSWA) Hall of Fame. Click here to read all his articles here on SI Fantasy. You can follow Michael on Twitter, Facebook, YouTube, and Instagram for your late-breaking fantasy news and the best analysis in the business to help you win a fantasy championship!