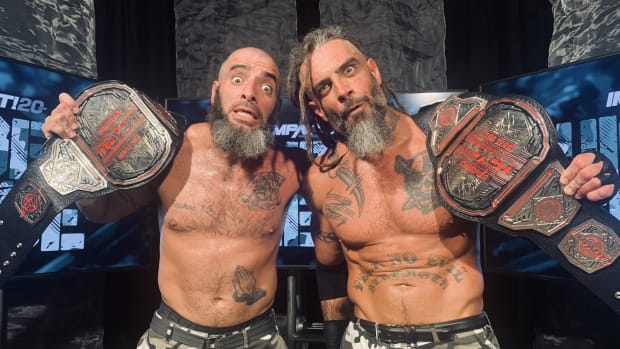 The year was 2016, and the setting was a laundry room at Sam's Town Live in Las Vegas.
Vegas possesses a mystique and an aura, but neither of those were present off the strip at Sam's Town Live. The hotel rooms had a smoky scent, the buffet line was bustling with senior citizens, and the only excitement in the casino for this young reporter was sharing a word of broken English with Tomohiro Ishii at the slots. I had not made the trip to Vegas for anything except pro wrestling. There was a supercard at Ring of Honor's 14th Anniversary Show—with the added bonus of plenty of backstage interviews with stars from ROH and New Japan Pro-Wrestling.
There was never a dull setting for these interviews. Kenny Omega was interviewed in the middle of the ring. Hiroshi Tanahashi conducted his interview in a janitor's closet (which, for no particular reason, was the same spot where we did an interview together in New York years later). The Young Bucks and Kazuchika Okada spoke with me in a storage space that was cleared out and designated as my interview room, but before that, I started off by interviewing wrestlers in the laundry room.
New Japan star Rocky Romero was my first interview. When we finished, he asked, "Have you ever spoken with the Briscoes before?"
I hadn't, so Romero—who had just rejected an offer from WWE and was beginning his role as a talent relations ambassador for New Japan—found Jay and Mark Briscoe. In bounced the two chicken farmers from Sandy Fork, Del., who became one of the greatest tag teams in wrestling history—a feat accomplished without spending a day in WWE. Wrestling is overflowing with colorful characters and personalities, but there was an unmistakable element immediately apparent when Jay and Mark Briscoe entered the room.
Reality tells a unique story in pro wrestling, and the Briscoes legitimately grew up on a chicken farm. Their father started the farm just under four decades ago. At one point, he had three farms—and those areas became a familiar haunt for Jay and Mark.
Jay articulated the evolution of the Briscoe Brothers, which saw the pair attempt to play characters before returning to their natural personalities.
"It took years, but we had to convince ourselves to be ourselves," Jay said in that laundry room interview. "Whenever we walked into a locker room, guys knew we grew up on a chicken farm. The guys used to get a kick out of the stories about the chickens and living on the farm, so we thought we'd let everybody see it. And it kind of caught on."
There was a certain energy and excitement in the room as the Briscoes took turns discussing their past, present and future. But they were noticeably distracted when Cheeseburger entered the room. Cheeseburger began to playfully distract them, stoking the flame of brotherly love when he reminded Jay that it was Mark who woke him up from a deep sleep during a recent trip to Japan when he dropped a picturesque flying elbow onto him from the other side of the bed.
Before you could process that thought, Jay was on top of Mark, wrestling him to the ground. All mid-interview. All authentic.
"That was them," Romero says now. "They were constantly messing with each other. I can't tell you how many times that happened. In front of the camera, behind the camera, they knew exactly what buttons to push with one another."
Romero has struggled to come to terms with the sudden loss of Jay Briscoe, whose real name was Jamin Pugh. He died in a car accident Jan. 17 and was laid to rest on Saturday.
"My first match in Ring of Honor was with Ricky Reyes against the Briscoe Brothers in 2004," says Romero. "We'd seen the Briscoes so many times through video tapes, especially the brutal match when they beat the hell out of each other. It was like, these are brothers?
"I remember getting to the building on that very first night, not knowing what we were going to get, and they couldn't have been cooler. We all hit it off. That is my first memory of them. They were so giving and willing to make the match work. Because of that, we became Ring of Honor mainstays."
There was something magnetic about the Briscoes. That was the case this past year, when the Briscoes worked three career-defining matches against FTR. And there was a rare quality about Jay Briscoe, who became a two-time ROH champ. He seemed to relish making a new star, which he did when he dropped the title to Jay Lethal at Best in the World in 2015, as well as with "Hangman" Adam Page, who picked up his first significant singles win in ROH at Death Before Dishonor in 2016 when he overcame Briscoe in an Anything Goes match.
"Wrestling was a big part of his heart and passion," says Romero. "He wasn't doing this for a payday. Jay wanted it. He worked hard. Every performance was 150%. That's why fans grew to love him, especially during those big title runs in Ring of Honor. There was something different about him."
Briscoe's highlight reel is incredible. There are the ROH title runs, his feuds with Adam Cole and Matt Hardy, and the 13 ROH tag title runs (and one with the IWGP tag titles in New Japan) that help make up his lengthy list of accolades. But the wrestling community has not been mourning the loss of a talented wrestler; it is broken hearted over the loss of a beloved brother.
"When you made eye contact with Jay, and you saw that mischievous smile, and he'd walk toward you, almost the same way he ran the ropes, he'd give you a dap and a big hug," says Romero, composing himself and wiping away the tears. "I'll miss that. He was one of the realest dudes I've ever met.
"This is terrible. It's so f---ed up. It's been hard. I've had to turn off social media."
Last Wednesday, on what would have been Jay Briscoe's 39th birthday, his brother Mark defeated Jay Lethal on the main event of Dynamite. Exhibiting the trademark Briscoe ferociousness and intensity, Mark dedicated the match to his fallen brother.
For reasons beyond our comprehension, Jay Briscoe is here only in spirit. He will live on in the ring through Mark, who will spend the rest of his career honoring his brother's memory.
"Jay captured the spirit of pro wrestling," says Romero. "He was a brother to us. This one really hurts."
Justin Barrasso can be reached at JBarrasso@gmail.com. Follow him on Twitter @JustinBarrasso.