If you want a chance to witness the historic moment, you'll have to shell out some serious cash.
LeBron James is closing in on history, with the Lakers' star within striking distance of Kareem Abdul-Jabbar's record for the most points in NBA history. After notching 28 points in Los Angeles' 129–123 overtime win over the Knicks, James is now just 89 points shy of the 38,387-point threshold. The 38-year-old league veteran recorded his first triple-double of the season Tuesday night, tallying 10 rebounds and 11 assists in addition to his 28 points, with James also climbing up the all-time assists leaderboard, eclipsing Mark Jackson and Steve Nash to move to fourth on the list.
As James inches closer to becoming the NBA's all-time leading scorer, ticket prices have begun to soar, with fans eager to watch history be made. Using insights from SI Tickets, we're looking into the most sought-after Lakers seats as James nears the historic mark.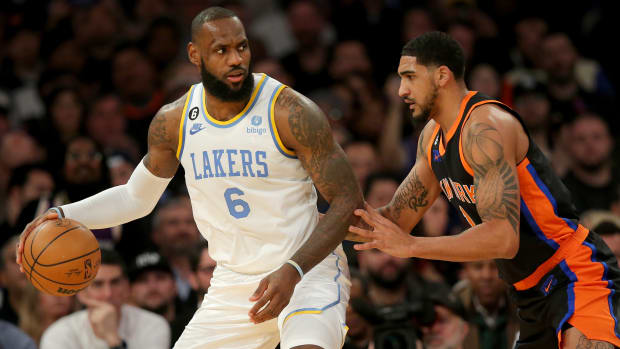 Minimum Ticket Price: $424
Average Ticket Price: $1,757.81
Averaging 30.2 points through 41 games this season, James is projected to break Abdul-Jabbar's record at home against the Thunder—that is, if he doesn't miss Thursday's game against the Pacers or Saturday's matchup against the Pelicans. If he does surpass the points threshold Tuesday night, it will mean back-to-back solid outings on the road for James. Still, fans don't want to gamble, with the average seat for the Lakers' home tilt against the Thunder posted for a whopping $1,757.81.
Minimum Ticket Price: $393
Average Ticket Price: $1,931.32
James and the Lakers will be at home again on Feb. 9, hosting the Bucks at Crypto.com Arena. This contest has it all—it's set in Los Angeles, the Lakers are facing an estimable opponent in Giannis Antetokounmpo and the Bucks, plus this timeline is slightly more forgiving in terms of James's output. The last time the two teams faced off, the Lakers prevailed, with James posting 28 points, 11 assists and eight rebounds. With many circling this game on the calendar, ticket prices are exploding as the average seat is going for nearly $2,000.
Minimum Ticket Price: $323
Average Ticket Price: $1,131.23
This game may not be at home, but it's close enough in San Francisco. Plus, it's got the star power, with James and the Lakers taking on Steph Curry and the Warriors. James passing the all-time points record while sharing the court with a legendary shooter in Curry would make for a compelling story. If the NBA icon misses any of Los Angeles' upcoming games, then the Lakers–Warriors matchup may be where history is made. Seats to Chase Center are available starting at $323, topping out at $1,131.23.