• We had a request for a French Open Guide column, as we've done for the U.S. Open. Anyone has tips, hacks, etc., fire away …
• Here's the Aussie Rules Football piece …
Onward ...
---
Jon, the Super Bowl was weeks ago and what's everyone talking about? The NFL Draft. It got me thinking: tennis can't obviously do a draft. But what else can it do to capture attention of fans, apart from the matches themselves. You seem like the kind of person who might have thoughts.
Thanks, Chas
We should all be looking for pro tennis brand extensions. Both tours. Networks. Players. Those with vested interests. People (casual fans) are always going to watch the four majors and some of the biggies like Indian Wells. Then? It's into the great wide open. Maybe Carlos Alcaraz romps in Barcelona (odds are good actually) and Bianca Andreescu slays in Toronto. Maybe Player X makes his return. Or Player Y scores an upset. Or there's some controversy. But if you're not a hard-core tennis fan, are you watching Ostrava or Acapulco or (RIP) the Mubadala Open at Stanford?
Tennis needs all the help it can get. Which is to say, all the opportunities it can concoct. The Laver Cup is a start. These assorted one-night exhibitions don't hurt. But here are three ideas, all of them taking advantage of tennis's secret in plain sight, its mixed-genderness (prize to someone who can up with a catchier name):
1. A skills contest. The dunk contest and the three-point shootout played a pivotal role in the NBA's resurgence. Where is tennis's analog? Accuracy contests. Who can serve the highest on the speed gun? Who sits in the dunk tank as Stefanos Tsitsipas tries to hit the bullseye, as he did in Madrid? Sprint contests. The Cara Black drill. Who can come closest to hitting the ball out of the stadium? The USTA, to its credit, started this at Arthur Ashe Kids Day. Who can make it official?
2. A tennis roast. Adam Sandler got his. (Aside: Chris Rock was funnier in four minutes here than in his entire, much-anticipated Netflix special). Tom Brady gets one. Think of the White House Correspondents' Dinner meets the Friars Club. Have a guest of honor (Roger Federer's retirement? McEnroe as he turns 65? Venus Williams?) and fire away, occasionally crossing the line. Add in some cabaret revue performances, as both did at Eastbourne and Monte Carlo. Instead of letting tennis players prop up the Met Gala, have a fashion component here. Clips go viral. Someone buys the broadcast rights. Boom.
3. A more conventional tennis awards show. We vote on these awards every year. MVP. Most Improved. Comeback Player. Newcomer. Coach of the Year. Most Ethical Agent. Who knows if the winners even get their prizes. (Honorees falling in the forest.) As the year closes, players rightly want their vacation time. The last thing they want is another commitment cutting into their offseason. So hold this event in Australia in January. (Or when the tours merge, hold it at the jointly-held Year End Finals, not held in China.)
---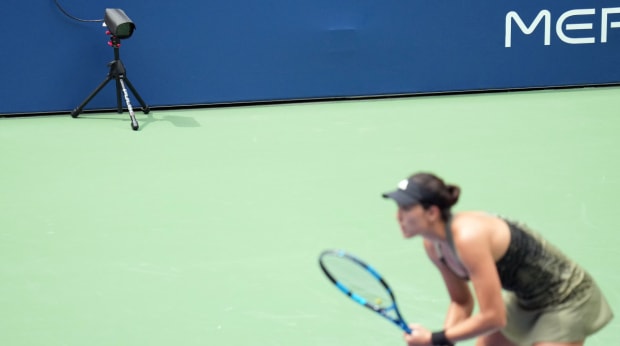 Jon, I know you joked the robots are coming and resistance is futile. [Ed: a reference to this] But are you sure this is really such a good thing?
Diego, Calif.
How about some creative problem-solving. In MBA speak "make it 'and' and not an 'or.'" First, I think you have to embrace technology. The overriding objective is accuracy and fairness, the latter an outgrowth of the former. If you have the tools to maximize accuracy it's a dereliction of duty to reject it. How ridiculous is baseball? Fans at home see what pitch is a ball and what is a strike, thanks to cameras and algorithms and AI-adjacent technology. But the pitcher and batter—the two athletes most deeply impacted—rely on the judgment of an umpire? Anyway, yes, tennis robots are here. As one of you noted, it spells demise for Fingers Fortescue. We'll no longer have tantrums in response to perceived botched calls. Yes, it will bleach a bit of color. But, assuming fairness underpins and should be an aspiration, you have to go with the choice that optimizes, no?
All that said, we would do well to recognize that humans are impacted and jobs are imperiled and tennis devotees are being phased out. And this doesn't have to be the case. Surely there are ways in which these dedicated, patriotic citizens can be conscripted. Not just as drivers and volunteers and conventional tournament positions. But in all sorts of creative ways.
---
Jon, what are your thoughts on the expansion of tournaments like Madrid to a 2-week format? I heard Opelka on Tennis Channel this week, saying it's too hard for the U.S. player to weather long stretches in Europe with so much down time between tournaments while struggling for access to world class training facilities and courts. My message to the USTA: invest in having a center based in Europe given that players spend half their season there. Make the location roughly equidistant between Paris, Rome and Madrid. You open the Lake Nona campus in Florida. How about a new USTA "Lake Blue" (Le Lac Bleu) Center near Marseilles? Or bite the bullet and pay Mouratoglu [sic] for court and lodging access at his academy closer to Nice?
Bob
Opelka isn't going to get much sympathy. "Six or seven spring weeks in Madrid and Rome and then Paris. Boo-frigging-hoo. I'm an ocean from home, eating Blooming Onions at some strip mall in the Cincinnati suburbs in August." Even before Ash Barty's COVID-19-era year abroad (which, pretty clearly, hastened her retirement) Aussies like Pat Rafter and Lleyton Hewitt were setting up bases in the Caribbean because they couldn't go home for chunks of the year. These are the perils—some might argue appeals—of playing on a global tour.
I like your suggestion. In addition to buying swampland in Florida, the USTA would have done well to set up a true base in Europe, acknowledging that the top players are going to a) play a lot of matches on clay and b) spend significant time on the other side of the ocean. Surely, they can broker some kind of time-share arrangement with, say, the Sanchez Academy.
Speaking of the perils of a global tour…..
---
In view of the WTA's revenue shortfall based capitulation to China on the Peng Shuai issue, why is it so hard for the WTA to find corporate sponsorship for it's tour? What keeps companies from stepping up and supporting the WTA and it's tournaments?
Cheers, Franklyn
Interesting question. Two pet theories: 1) There are great advantages to being a truly global sport. But it complicates umbrella sponsorship. There are a finite number of companies that have global markets. When I began covering tennis, women's tennis was played on the Sanex WTA Tour. What is Sanex, you ask. If you were French, you knew immediately that this was a popular cosmetic/personal care brand. If you lived in many places elsewhere (including the U.S.), you couldn't find the products.
2) If you are a brand with sponsorship dollars to spend, might you be better off devoting it to a single athlete, and not an entire tour? It's easier to manage and activate the sponsorship. The variables are fewer. You can structure the deal more easily. If you're Gatorade or Louis Vuitton or American Express, would you rather align with Serena Williams? Or the entire circuit?
Someone asked a few weeks ago: Is it healthy to have individual players, like Naomi Osaka, have financial balance sheets that look stronger than those of the WTA? Short answer: yes. Longer answer: This isn't uncommon in sports. Many of the franchises in team sports lose money year-over-year, while paying players tens of millions. The difference: Team valuations continue to skyrocket so a small operating loss is no great concern. Not so, tennis.
---
Congrats to wheelchair tennis legends Esther Vergeer and Rick Draney for being selected as the only members of the ITHF Class of 2023. Seeing no other nominees voted in on this year's Hall of Fame ballot has me wondering about how to properly and fairly evaluate the career resumes of doubles specialists (i.e. Daniel Nestor, Cara Black, Lisa Raymond, etc.) vs. other players that achieved more success on the singles court but a lower grand slam total trophy count.
I won't ask you to match the analytical exploits of your esteemed ex SI.com colleague Jay Jaffe to create a proprietary Wertheim Wins Above Replacement score for tennis (perhaps sponsored by the esteemed Philadelphia institution known as WaWa?). But how would you compare the candidacy of a doubles specialist like Daniel Nestor to other singles players or even against a past nominee like Jonas Bjorkman that achieved success in both doubles and singles but ultimately did not see enshrinement.
Personally, I voted in favor of Nestor on my fan ballot for the ITHF (1000 career wins!!!!!), but was less enthusiastic about Bjorkman's past candidacy (even though I would lean towards a Yes Vote).
Brian U
NYC.
Any communique that references Jay Jaffe and WaWa gets my attention. A tennis WAR is great. (What applied math major wants a project?) As long as we are here … a) Is there a way to weigh a tennis player's record for "quality of opponent?" The UTR does this to an extent. But we've often argued, for example, that Serena Williams's 23 majors (with 128 draws and all the best players entered) is a superior achievement to Margaret Court's 24 majors, given that almost half of them came in Australia when draw sizes were as small as 32 and the best non-Australian players begged off. Would be nice to have real data. Similarly, look at something like Kei Nishikori's best-of record. It's impressive. But less so when you consider that in the vast majority of matches, he was the favorite and should, by rights, have won in fewer sets.
---
I saw "R. Gasquet" won a match in Madrid. Was that Richard Gasquet. I admit I don't follow tennis as closely as I used to, but he's still playing? Really?
Todd B., New York.
We have heard that Richard Gasquet takes issue with Macron's raising the retirement age. (He protested non-violently). But he is now resigned to playing until age 64. Seriously, credit to him. He turns 37 the week after the French Open and is still zinging that one-hander, playing top-50 ball. As with other French players, the 2024 Paris Olympics are likely incenting him to continue.
---
Shots, Miscellany
• For the 50th consecutive year, graduates of the Harlem Junior Tennis & Education Program will be leveraging their success in the program to a roster spot on a college tennis program. This year, 11 program graduates will be joining hundreds of previous HJTEP graduates in becoming college tennis student-athletes. They will be recognized alongside their classmates at the HJTEP annual gala on May 22 at the Ziegfeld Ballroom in New York City. To make a donation or purchase tickets for the gala visit www.HJTEP.org
Here's a list the 11 program graduates and the colleges they will be attending: John Boateng [University of Saint Joseph (Connecticut)];Erick Conception [Liberty University (full scholarship)]; Kayon John (University of Buffalo); Jude Killikelly (Hampton University); Simon Mabbott (Union University); Cristian Ramos (Fordham University); and twin sisters Addison Ortiz (Manhattanville College) and Amaya Ortiz (Wingate University). Additionally, three HJTEP graduates, who have received multiple offers, are still undecided: Josiah Bartolomew (Bard College, Howard University and Wake Forest); Mia Edwards (Rice University and Tufts University); and Olivia Kunz (Purchase University and New Paul College)
• Longtime tennis scribe, Michael Mewshaw, has a new book coming out. Order here.