Early on in Damien Chazelle's new film Babylon, Margot Robbie's character, Nellie LaRoy, says, "You don't become a star. You either are one or you ain't. I am." Those words would be just as fitting if they were written for Jazz Chisholm Jr., the Euro-stepping phenom of the Marlins who was revealed as the cover athlete for the popular baseball video game MLB The Show 23 on Monday afternoon.
In many ways, this is the gaming equivalent of being featured on the cover of Sports Illustrated. It's a platform that showcases one of the most exciting players in baseball. Usually, the players The Show puts on its cover are reigning MVPs—Shohei Ohtani (2022), Josh Donaldson ('15), Dustin Pedroia ('09)—or young faces of the game—Fernando Tatis Jr. ('21), Aaron Judge ('18), David Wright ('07).
In comparison to these previous cover athletes, Chisholm is an odd choice. His star quality is undeniable—it takes all of one highlight reel to recognize it—but considering he plays on a team that is coming off consecutive fourth-place finishes and is hardly trying to contend this season, Chisholm is certainly the least accomplished player The Show has ever included on its cover. Instead of selecting Mariners center fielder Julio Rodríguez, the breakout sensation of last year, The Show went with someone who could instead emerge as a top player during the upcoming season, which begins two days after The Show launches on March 28. Chisholm's place on the cover is indicative of baseball's greater push to focus more on its future.
"Baseball has been in a cultural war for the last couple of years," says Chisholm, who turns 25 on Wednesday. "And I feel like this will be the way to show them that the culture is different now."
Chisholm is committed to changing baseball's reputation from a slow, boring relic of the past into a dynamic form of entertainment befitting the 21st century. "I want people to treat baseball the way they treat basketball or football, because I was always in love with baseball."
His love story with baseball begins in the Bahamas. He grew up in Nassau and spent weekends with his maternal grandmother, Patricia Coakley, who played shortstop for the Bahamian national softball team in the 1980s and was the star of many amateur teams in the following years. She's the one who taught him to play—and to be himself while he's playing. That involves celebrating and laughing when he's on the field, sticking his tongue out when he steals bases, bat flipping when hitting home runs. And then, of course, punctuating those dingers with his signature Euro step as he jogs toward home plate.
"I want baseball to be that thing where people turn it on and be like, 'Oh, yeah, this guy is on. Watch him do this. And he's gonna do his Euro step! He's gonna hit a home run and do this little basketball shot around first base.'
"It's like when you watch Ja Morant now in the NBA. Like, that's who you want to watch. And he's making it fun for everybody to watch. So that's what I want to be."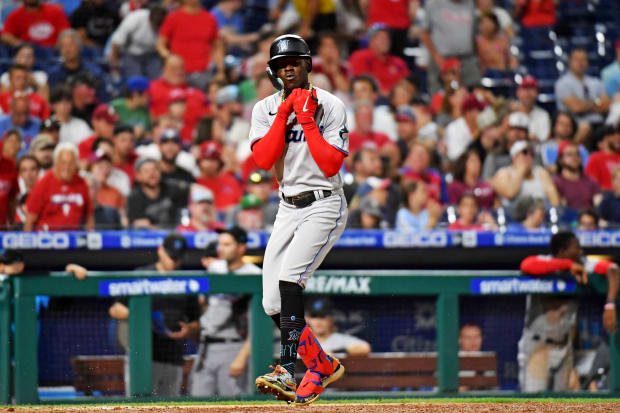 Chisholm was named an All-Star for the first time last year, before a stress fracture in his lower back forced him to miss the final three months of the season. Through 60 games, he batted .254 with 14 home runs, 12 stolen bases and a .535 slugging percentage. He says his back is doing much better, and though he still has some rehab work to do, he will be ready for the start of the season.
This spring, Chisholm faces a new challenge: changing position. He spent his first three major league seasons as Miami's starting second baseman, but, after trading with the Twins for American League batting champion Luis Arraez earlier this month, Marlins general manager Kim Ng made the unexpected announcement that Chisholm would be their starting center fielder this season. Despite never playing the outfield in a competitive game, Chisholm volunteered to move to center before the trade was made. "If you can't find a center fielder, I'll go out there, no problem," he said to new manager Skip Schumaker, according to The Athletic's Ken Rosenthal. "I'll go out there and win Gold Gloves."
What makes Chisholm so confident that he can successfully transition to center field?
"I've done everything else I said I was gonna do. Why not do this, too?," he says. "I told everybody I was gonna be a big leaguer, I'm there. An All-Star, I'm there. A Hall of Famer, one day. You know what I mean? So why not go out there and just play center field? We needed a center fielder. The only way we're gonna win is if we get a good center fielder and a great bat out there. And if nobody else is gonna do it, I'm gonna do it."
Hard to believe? For someone else, maybe, but not Jazz. Chisholm has all the tools necessary to be a star center fielder. He combines power and speed like few in the game today. He's athletic, with a strong arm and natural baseball instincts. Why should we doubt him? He has that specific, unquantifiable quality that either you are or you ain't. Jazz has always been a star, and this is his time to shine.