After some early back-and-forth line movement when the Super Bowl LVII spread dropped, the Eagles are favored against the Chiefs in the Big Game.

It's a tight spread, with Philadelphia giving just 1.5 points to Kansas City. It's also historic, as it marks the first time Patrick Mahomes is an underdog in his playoff career.
Across five years as a starter, Mahomes has gone 10–3 straight up in the postseason and 1–1 in Super Bowls. The Chiefs have been favored in all 13 playoff games with him under center. There was a point ahead of the AFC championship game against the Bengals when it seemed that streak would end and Cincinnati would close as a road favorite. There was concern regarding the status of Mahomes, who is dealing with a high ankle sprain, but the spread swung back toward Kansas City after he logged full practices midweek.

Mahomes has rarely been installed as an underdog in the regular season. It's only happened nine times across 80 career starts.

So ahead of the Super Bowl, let's review Mahomes's brief and profitable history of getting points.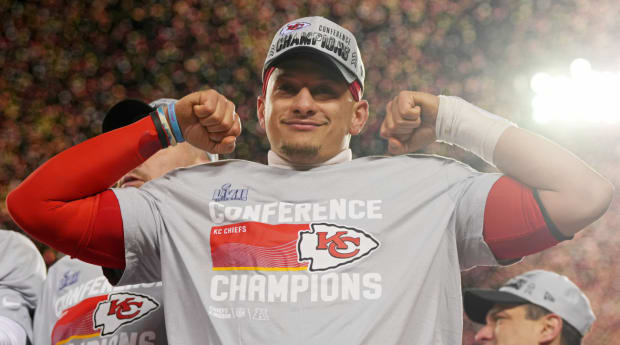 2017
Record ATS: 1–0
Record SU: 1–0

With the Chiefs locked into their playoff position, coach Andy Reid sat Alex Smith for the season finale and instead started Mahomes, the 10th overall pick earlier that year. A road game against Denver was Mahomes' debut, and Kansas City was installed as a three-point underdog.

Mahomes completed 22-of-35 passes for 284 yards and an interception and helped his team build a two-touchdown lead in the fourth. After he was pulled, the Broncos rallied to tie the game, and Reid sent his future franchise quarterback back in the game with under three minutes to go. Mahomes responded with his first career game-winning drive, which was capped off by a Harrison Butker 30-yard field goal as time expired to put the Chiefs ahead, 27-24.
2018
Record ATS: 3–0–1
Record SU: 3–2

It makes sense that in three of the nine games, Mahomes has been an underdog in his first three career starts. No one knew that the signal caller from Texas Tech was such a magician—yet.

After Smith was traded away, the Chiefs were officially Mahomes' team and installed as 3.5-point underdogs on the road against the Chargers in the season opener. Mahomes threw for 256 yards and four touchdowns in a 38-28 upset victory against Philip Rivers. He hooked up with Tyreek Hill seven times for 169 yards and two scores in that game, which was the start of a successful partnership.
The following week in Pittsburgh was more of the same, though even better. Mahomes tossed six touchdowns in a 42-37 win over Ben Roethlisberger's Steelers in a game that Kansas City entered as a 4.5-point underdog, the largest underdog spot of Mahomes' career.

The Chiefs were undefeated heading into Gillette Stadium in Week 6 to take on Tom Brady and the Patriots, who were a 3.5-point favorite. New England won, 43-40, on a Stephen Gostkowski game-winning field goal. Mahomes finished with 352 yards, four more touchdowns and two picks to Brady's 340 yards and one score. It was the first loss of Mahomes' young career, but he still covered the spread.

In Week 11, the Chiefs traveled to Los Angeles to take on the Rams in what ended up being the game of the year. L.A. was a three-point favorite in a game that smashed the astronomical over/under of 63.5 points. Mahomes threw for 478 yards, which remains a career-high, and another six touchdowns to go with three interceptions in a 54-51 loss to Jared Goff, who went for 413 yards and five total scores. It was a push for K.C.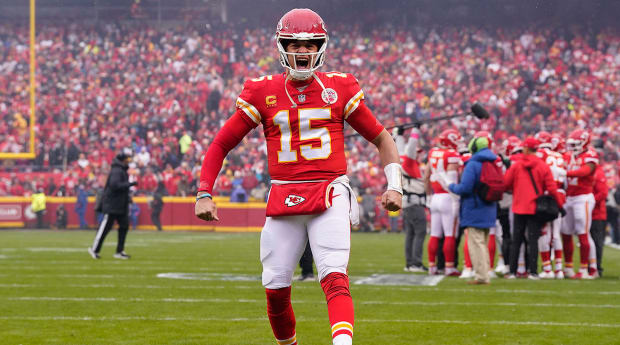 2019
Record ATS: 1–0
Record SU: 1–0

After losing twice to New England the previous year, including at home in the divisional round, Kansas City returned to Foxborough, Mass., as a three-point underdog in Week 14. Mahomes finally got the best of Brady in a 23-16 victory in which he finished with 283 passing yards, a touchdown and an interception.
2020
Record ATS: 1–0
Record SU: 1–0

The defending Super Bowl champion Chiefs headed to Baltimore to take on reigning MVP Lamar Jackson in Week 3. The Ravens were favored by 3.5 points in this showdown between two of the AFC's top teams. Mahomes accounted for over 400 yards of offense and five touchdowns as Kansas City bottled up Jackson in a 34-20 statement win.
2021
Record ATS: N/A
Record SU: N/A

(Favored in every game.)
2022
Record ATS: 1–1
Record SU: 1–1

In retrospect, it's surprising that the Buccaneers were favored by 2.5 at home in a Super Bowl LV rematch in Week 4 against the Chiefs. But Tampa Bay was 3–0 at the time, and Kansas City had just suffered a shocking loss to Indianapolis. Mahomes beat Brady, 41-31, in the sixth (and now seemingly final) all-time meeting between the two signal callers.
In a Week 6 rematch of the previous year's thrilling divisional round battle, the Bills were favored by 2.5 points on the road in Arrowhead Stadium. That was the first and only time in Mahomes' career that he was a home underdog, and Buffalo got its revenge. Josh Allen threw a go-ahead touchdown with just over a minute to go, and Mahomes then threw a game-sealing interception in a 24-20 loss. That was his only loss against the spread as an underdog in his career.

And now, Philadelphia is a narrow favorite on a neutral field in Glendale, Ariz., over Kansas City in the Super Bowl. Mahomes and Jalen Hurts have one head-to-head meeting in their respective careers: The Chiefs won, 42-30, on the road over the Eagles. They were 6.5-point favorites.

In the two previous Super Bowls Mahomes has played in, he was a 1.5-point favorite against the 49ers and a three-point favorite versus the Buccaneers. He's 1–1 against the spread in the Big Game in his career.
Career as an Underdog
Record ATS: 7–1–1
Record SU: 6–3