The quarterback position could have some major movement this offseason, with a few huge names changing teams via free agency or trades. I've already discussed the two biggest fish, Tom Brady and Aaron Rodgers, so I'll focus on another signal-caller who could be on the move, Jimmy Garoppolo.

The 49ers are loaded at the position with Trey Lance and Brock Purdy on the team, so Garoppolo is unlikely to be retained and should compete to start elsewhere. He has been the least durable dude in the NFL, missing a combined 18 games over the last three years due to injuries. He's also not been a great fantasy quarterback overall, averaging no more than 15.2 fantasy points in each of his last three seasons.
Regardless, the supply of good quarterbacks is much less than the demand. That means that while there will be other, more attractive signal-callers on the market (like Brady and Rodgers), there won't be a shortage of suitors looking at Jimmy G.

Here are five teams that could need quarterbacks and would be interesting spots for Garoppolo to land next season. Let's start things off in Las Vegas.

Top Five Fantasy Landing Spots: Tom Brady | Aaron Rodgers | Jimmy Garoppolo | Saquon Barkley | Tony Pollard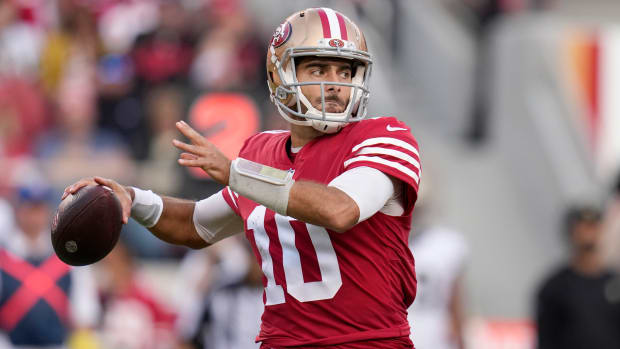 Las Vegas Raiders

Brady and Rodgers are the likely lead contenders to end up in Sin City, but Jimmy G could be a fallback plan. He'd be a fantasy QB2 with Davante Adams, Darren Waller, Hunter Renfrow (and maybe) Josh Jacobs in the offense, and his presence wouldn't drastically hurt the draft value of any of those players. Garoppolo also knows the offense from his time with head coach Josh McDaniels in New England.
New York Jets

The Jets are looking to add a veteran quarterback, and much of their fan base will prefer Rodgers or even Brady. However, Garoppolo would once again be a backup option if the Men in Green can't land one of the top two options. He wouldn't hurt the fantasy stock of Breece Hall, Garrett Wilson or Elijah Moore, and he'd be in the low QB2 conversation in drafts. Also, remember that Garoppolo has a relationship with Jets headman Robert Saleh from their time together in San Francisco.
Tampa Bay Buccaneers

If Brady leaves the Buccaneers this offseason, their offense could add a veteran quarterback to replace him. Imagine if that quarterback turns out to be Garoppolo, who backed up Brady for so long in New England? Tampa Bay still has some valuable fantasy assets in the form of Leonard Fournette, Mike Evans and Chris Godwin, so it would be a nice fit in terms of both real and fantasy football. Garoppolo would be worth a late-round pick as a No. 2 fantasy quarterback.
New Orleans Saints

The Saints have been looking for a stable, veteran quarterback since Drew Brees retired, and Garoppolo could fill that void. The team has seemingly lost faith in Jameis Winston, and Andy Dalton is slated to become a free agent, so adding a new team leader makes sense. Their offense still has plenty of talent in the form of Alvin Kamara, Chris Olave and Michael Thomas (if they don't release him), and Garoppolo would be playing in one of the weakest divisions in the league.
Carolina Panthers

The Panthers have a glaring need at quarterback and could add a veteran such as Garoppolo in the offseason. They do have the ninth overall pick in the NFL draft and could go in that direction, but Garoppolo could also become an option if that road leads to a dead end. Carolina doesn't have many fantasy weapons, but D.J. Moore and Terrace Marshall would benefit from Garoppolo's presence.
---
Michael Fabiano is an award-winning fantasy football analyst on Sports Illustrated and a member of the Fantasy Sports Writers Association (FSWA) Hall of Fame. Click here to read all his articles here on SI Fantasy. You can follow Michael on Twitter, Facebook, YouTube, and Instagram for your late-breaking fantasy news and the best analysis in the business to help you win a fantasy championship!