Editors' note: This newsletter includes graphic descriptions of sexual misconduct allegations as well as domestic violence. If you or someone you know is a survivor of domestic abuse, contact the National Domestic Violence Hotline at 1-800-799-7233 or at https://www.thehotline.org/.
Scott Rolen on Tuesday pulled off the biggest climb in modern Baseball Hall of Fame voting history. After receiving just 10.2% support in his first year of eligibility, he was elected by the Baseball Writers' Association of America in his sixth year with 76.3% of the vote—clearing the needed threshold by five votes out of 389 cast. Here is a deeper dive into what else we learned from the voting trends.
Biggest winner
Well, obviously, that would be Rolen. But let's look beyond the person who got in.
Without a strong first-year candidate and on the heels of Fred McGriff getting elected by the Contemporary Baseball Era committee, Todd Helton took the biggest leap, from 52.0% last year to 72.2% on this ballot—11 votes short of the threshold. The five-time All-Star who spent his entire 17-year career with the Rockies now looks primed to join Adrián Beltré, a debut candidate, in the Hall of Fame class of 2024.
Biggest loser
In January 2020, after receiving 52.6% of the vote, Omar Vizquel appeared on his way to Cooperstown. Since then he has dropped three straight years, to 49.1%, 23.9% and now 19.5%.
Vizquel's precipitous decline began in January 2021, about a month after The Athletic's Katie Strang and Ken Rosenthal reported Vizquel had been arrested for allegedly assaulting his second wife, Blanca García, in December '16. Vizquel wasn't prosecuted for assault because, according to The Athletic, García wrote a letter asking the prosecutor to drop the charges. She later told The Athletic that Vizquel coerced her into signing the letter. Strang and Rosenthal's investigation also revealed Vizquel allegedly assaulted García on multiple other occasions. Vizquel has denied any accusations of domestic assault.
Then, in August 2021, a former Birmingham Barons batboy sued Vizquel for sexual harassment when Vizquel was managing the team in '19. In the lawsuit, the former batboy, who has autism, says Vizquel "repeatedly exposed his erect penis to [him] and forced [him] to wash his back in the shower," and that Vizquel targeted him "because of his disability." The team fired Vizquel in September '19 after conducting an internal investigation into the alleged abuse. In June '22, Vizquel reached a confidential settlement with the former batboy.
Other players on the BBWAA ballot have also been accused of domestic violence (Andruw Jones, Manny Ramírez, Francisco Rodríguez), though it's difficult to know whether or how much their alleged assault has impacted their candidacies. Support for Jones has increased in each of his six years of eligibility, from 7.3% when he debuted on the ballot to 58.1% this year. Regardless, Vizquel's historic drop makes it clear he is not getting in the Hall of Fame.
Biggest snub
Despite picking up 52 votes, Jeff Kent fell 111 votes short of election in his 10th and final year of eligibility on the writers' ballot, never cracking 50% of the vote. The all-time leader in home runs and 100-RBI seasons by a second baseman is likely to gain election in December 2025 by the Contemporary Baseball Era committee.
Most momentum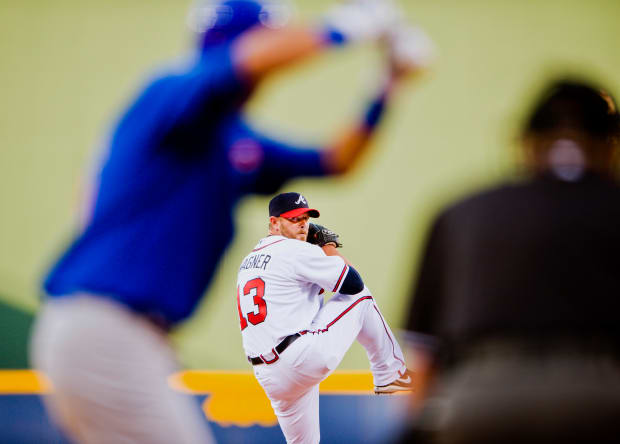 Billy Wagner, the most difficult pitcher to hit in baseball history (minimum 900 innings) received between 10.5%, 10.2% and 11.1% of the vote in his first three years on the ballot. He's continued to steadily gain ground in the five elections since: 16.7%, 31.7%, 46.4%, 51.0% and now 68.1%. He has two years to pick up that last 6.9%.
Most reinforced trend
PED-tainted guys are not getting in. Gary Sheffield did get a bump to 55%, but he's not picking up 20% in what will be his final year on the ballot next year. Alex Rodriguez, Manny Ramírez and Andy Pettitte are going nowhere. In a weak ballot where many players made double-digit percentage leaps, Rodriguez (35.7%) picked up just four votes. Ramirez (33.2%), in his seventh year of eligibility, gained 15 votes—yet still received 10 fewer votes than Rodriguez. Pettitte added 24 votes, from 42 to 66, but is at only 17% with five years left.
Most obvious penalty:
Despite Hall-worthy numbers, Carlos Beltrán received 46.5% support in his first year on the ballot. His role in the 2017 Astros' sign-stealing scandal was too outsized and too recent for voters to ignore. Was it just a one-year penalty? Beltrán is likely to get a good bump next year but probably needs a handful of years to get in. His statistical doppelgänger, Andre Dawson, needed nine ballots to get in.
Next up:
This year's ballot was relatively thin. According to the BBWAA website, the average number of votes per ballot decreased from 7.11 to 5.86; 13.9% of voters submitted 10-player ballots, down from 33.8% in 2021.
Next year, notable players such as Beltré, Joe Mauer, Chase Utley, David Wright and Matt Holliday make their debuts on the writers' ballot. Beltré is the only one who will almost certainly get elected in his first year of eligibility, but Mauer and, to a lesser extent, Utley should get more than enough support to stay on the ballot and be in a good position to climb in future elections. Wright and Holliday will be closer to the cut mark, and it'll be interesting to see whether they can earn enough votes to avoid the one-and-done fate.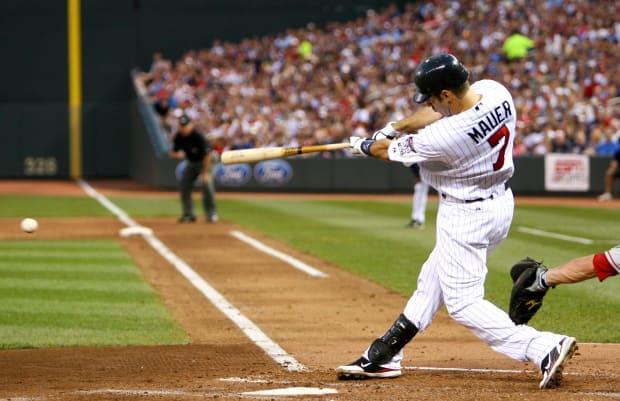 Those five debut candidates join the 14 holdovers: Helton, Wagner, Jones, Sheffield, Beltrán, A-Rod, Ramírez, Vizquel, Pettitte, Bobby Abreu, Jimmy Rollins, Mark Buehrle, K-Rod and Torii Hunter. That's 19 players competing for a maximum number of 10 slots per ballot. It's about to get crowded.
Have any questions or comments for our team? Send a note to mlb@si.com.
1. THE OPENER
"With a ban on shifts and a limit on infield depth starting this year, maybe it's a good time to take a chance on a big rebound from a lefty. Here are the five most intriguing left-handed hitters looking for a bounce-back campaign—and the chances it will happen."
In his column from yesterday, Verducci analyzes five lefty batters who signed with two new teams this offseason on buy-low, prove-it deals. So if you're wondering whether Cody Bellinger will ever be good again, or whether the elimination of the shift will matter to players who don't make much contact, anyway, then you should definitely give this a read.
Five Lefty-Hitting Fallen Stars Looking to Bounce Back in 2023 by Tom Verducci
2. ICYMI
Let's get you caught up on some of our other stories from the past week.
Explaining My 2023 Baseball Hall of Fame Ballot by Tom Verducci
Here's why Scott Rolen and three other players got my vote.
Revealing Our Hypothetical Baseball Hall of Fame Ballots by Emma Baccellieri and Matt Martell
No, we are not voting members of the BBWAA yet, but that didn't stop us from making our picks anyway.
Luis Arraez Trade Is Smart for the Twins, Puzzling for the Marlins by Emma Baccellieri
Minnesota restocked its rotation, but Miami curiously added another hitter without much power.
3. WORTH NOTING from Matt Martell
Following Rolen's election to the Hall of Fame on Tuesday night, FanGraphs senior writer Dan Szymborski used ZiPS, the projection system he created, to project what the top 30 third basemen of all time would look like, based on JAWS, after all the active third basemen have retired.
Quick reminder: JAWS is a metric created by FanGraphs writer Jay Jaffe, who previously worked at Sports Illustrated, that takes the average of a player's career WAR and the WAR from his best seven seasons. It's a way to evaluate players on their peak production and overall career in one number. One more thing to mention: JAWS and ZiPS use Baseball Reference's version of WAR.
Got it? O.K., here's the list: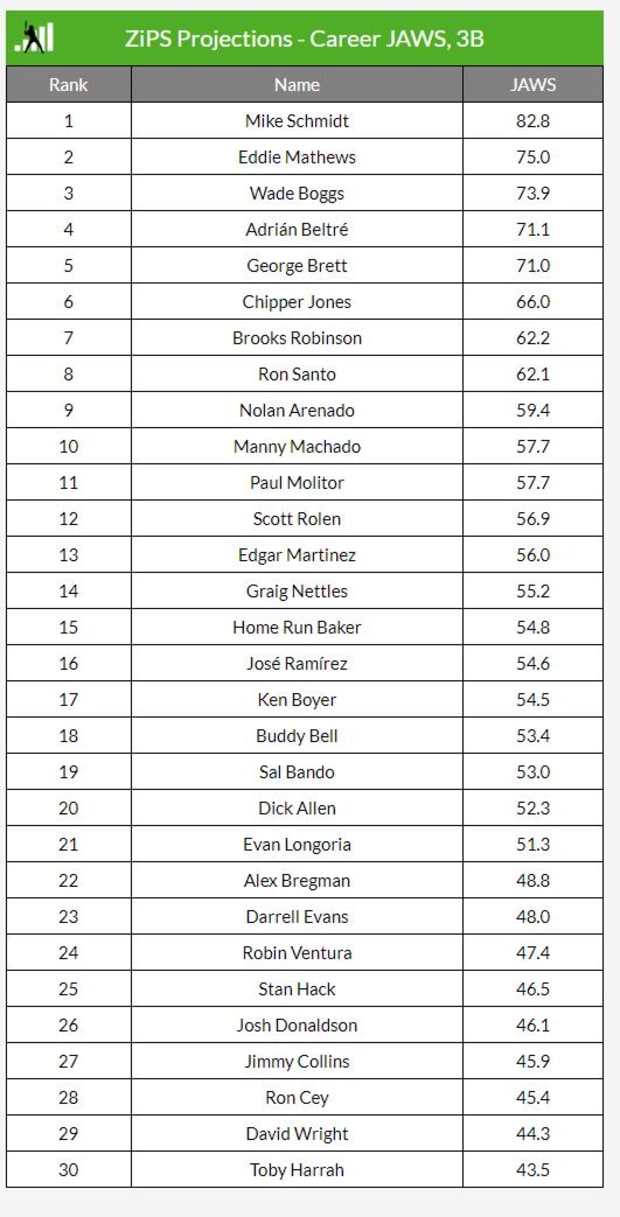 That's pretty epic. Nolan Arenado and Manny Machado are each projected to finish as top-10 all-time third basemen, according to JAWS. And then four other active players—José Ramírez (16), Evan Longoria (21), Alex Bregman (22) and Josh Donaldson (26)—fill out the top 30.
Some of you may ask why Arenado and Machado aren't higher on this list, considering they are still relatively young. The two main reasons, as Szymborski says on Twitter: "They're not likely to add much in peak WAR from here on out and people tend to overestimate how good a star's 30s will be."
I reached out to Szymborski via Twitter DM about the two players, and he broke down each player's ZiPS projections for me.
Arenado
Current WAR: 52.2
Current WAR7: 44.6
Current JAWS: 48.4
ZiPS Projected WAR: 73.1
ZiPS Projected WAR7: 45.8
ZiPS Projected JAWS: 59.4
Machado
Current WAR: 52.0
Current WAR7: 42.5
Current JAWS: 47.3
ZiPS Projected WAR: 72.0
ZiPS Projected WAR7: 43.4
ZiPS Projected JAWS: 57.7
Notably, there is no Kris Bryant, whose production has diminished in recent years due to injury. Over the last three seasons, he has combined for 4.2 WAR, which is less than his 4.4 WAR in 2019. At 31 years old, he is entering his second season with the Rockies and is slated to be their everyday left fielder, tasked with covering a lot of ground in the large Coors Field outfield at high altitude. Doesn't exactly sound like the best way for him to stay healthy.
I also asked Szymborski about Bryant. His response: "ZiPS is not happy about Bryant. Only eight projected WAR remaining; as a below-average left fielder with an increased injury risk, he falls a bit short of the list."
What's interesting is how many other active third basemen ZiPS projects to rank ahead of Bryant. "After Donaldson who made the list," Szymborski writes, "the active players in order who missed the list are Austin Riley, Matt Chapman, Anthony Rendon, Rafael Devers, Justin Turner, and THEN you get to Bryant."
It remains baffling that the Rockies signed Bryant to be their starting left fielder, when he is a better third baseman than he is an outfielder, and because playing the outfield usually takes more of a toll on a body than playing third.
Regardless of Bryant, it's clear we are watching some all-time great third basemen, and eventually, at least a few of them will be joining Rolen in the Hall of Fame.
4. TRIVIA from Matt Martell
Previous Question: In 2018, the year he won the AL MVP, Mookie Betts hit 32 home runs and stole 30 bases and won the batting title with a .346 average. Who is the only player with a higher average in a 30/30 season?
Answer: Larry Walker batted .366 with 49 home runs and 33 stolen bases in 1997. Remarkably, he didn't win the NL batting title that year because Tony Gwynn hit .372. Still, Walker's performance was enough for him to be named NL MVP.
Question: Who has won the most batting titles among active players?
5. THE CLOSER from Emma Baccellieri
For some additional baseball content elsewhere: The Society for American Baseball Research announced its yearly award nominees this morning, and as always, the list is full of great articles worth your time. And don't be put off if you're not a stathead—even though sabermetrics got their name from SABR, outside of the analysis category, there's plenty of work that doesn't require a statistics degree to understand. (As a history nerd, I'm biased, but the historical work is always my favorite to dive into.) Happy reading!
That's all from us today. We'll be back in your inbox next week. In the meantime, share this newsletter with your friends and family, and tell them to sign up at SI.com/newsletters. If you have any questions or comments, shoot us an email at mlb@si.com.