GlobeNewswire
BCNN TEKUMO ANNOUNCES RECORD GROWTH & BREAKEVEN IN Q3 RESULTS
News provided by
Balincan USA, Inc.
Nov 21, 2023, 9:30 AM ET
NEW YORK, Nov. 21, 2023 (GLOBE NEWSWIRE) -- Balincan USA Inc. ("Balincan" or the "Company") and Tekumo announced its financial results for the third quarter.

Revenue for the third quarter increased a record 194% over the second quarter to $846K. The first half of Q4 continues to grow at 70+% over Q3, and our current annualized revenue run rate exceeds $5 million.
Significantly, we established breakeven in our net ordinary income during the quarter.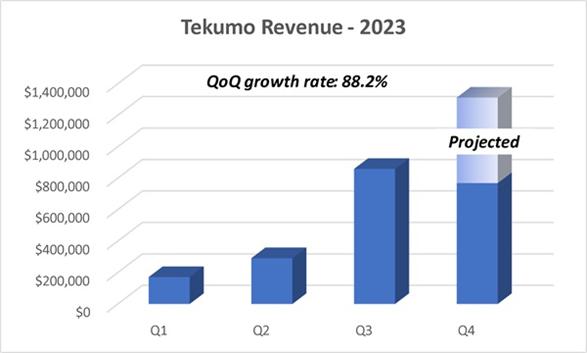 FINANCIAL UPDATE

At the end of the quarter, we also reached an agreement with our convertible noteholders to exchange the outstanding debt and accrued interest on their matured notes for common shares that "meaningfully improves our balance sheet," said Balincan Chief Financial Officer, Phillip Dignan.
Under the terms of the agreement, the note holders from our Series I and II Convertible Notes may convert $2.26 million in debt into shares of common stock at a price equal to the lowest trading price during the thirty (30) trading day period prior to any conversion, subject to a 9.99% limitation on beneficial ownership at the time such conversion. A Remittance Amount of 66.67% of the Net Proceeds from the sale of the Settlement Shares shall reduce the balance of the Notes outstanding. The conversion shares issued by the Company will be unrestricted in reliance on Section 3(a)(10) of the Securities Act of 1933.
Further, after engaging an SEC financial consultant, we are updating the Company's valuation of Derivative Liabilities related to the Series A and B Preferred Stock, and the convertible notes.
As of September 30, 2023, this resulted in a reduction of our total derivative liability from a previously reported $9.43 million to $4.92 million, representing an increase in net other income of $4.51 million since our merger in June of 2022.
This will result in a restatement of the previously submitted financial statements for the periods ended June 30, 2022, September 30, 2022, December 31, 2022, March 31, 2023 and June 30, 2023 as soon as the reports are compiled. Such changes will be reflected in net additions to Other Income and will be marked-to-market each quarter.
As you review this MD&A, we encourage you to read our interim financial statements and notes for the quarter ended September 30, 2023, filed November 17 with OTC Markets.
CORPORATE OVERVIEW

The Company offers a service delivery platform that solves the "last-mile" of installing, monitoring, and maintaining technology systems and smart connected devices. 
We play at the intersection of two major trends: the "Uber-ization" of product and service delivery, and the explosion of smart connected devices brought about by the "Internet of Things" (IoT). Our Service Delivery platform is designed to intelligently automate the installation and maintenance of products by offering On-Demand local technician resources, as well as providing a "smart interface" for the monitoring and management of connected devices.
This service platform caters for a broad range of technologies from POS systems, kiosks, digital menu boards, cameras, cabling, Wi-Fi and networking, to water and energy management, lighting and HVAC control, smart homes devices, wearable sensors, and access control.
Our platform results in "less people, less time and less cost" for our customers.
This MD&A includes statements and information about our expectations for the future. When we discuss our strategy, plans, future financial and operating performance, or other things that have not yet taken place, we are making statements considered to be forward-looking statements under United States (US) securities laws. Please see the disclosure relative to forward-looking statements at the base of this discussion.
About Balincan USA, Inc.
Balincan USA, Inc (OTC: BCNN) is an alternative reporting publicly held company that wholly-owns Tekumo LLC. The Company has filed for a name and symbol change to Tekumo, Inc., TKMO, which is moving through final FINRA review.
Safe Harbor:
Forward-Looking Statements
Any statements made in this press release which are not historical facts contain certain forward-looking statements, as such term is defined in the Private Security Litigation Reform Act of 1995, concerning potential developments affecting the business, prospects, financial condition and other aspects of the company to which this release pertains. The actual results of the specific items described in this release, and the Company's operations generally, may differ materially from what is projected in such forward-looking statements. Although such statements are based upon the best judgments of management of the Company as of the date of this release, significant deviations in magnitude, timing and other factors may result from business risks and uncertainties including, without limitation, the Company's dependence on third parties, general market and economic conditions, technical factors, the availability of outside capital, receipt of revenues and other factors, many of which are beyond the control of the company. The Company disclaims any obligation to update the information contained in any forward-looking statement. This press release shall not be deemed a general solicitation.
Colorado Springs
Phillip Dignan, President & CFO
719-419-6709
investors@balincanusa.com

NOTE: This content is not written by or endorsed by "WJBF", its advertisers, or Nexstar Media Inc.
For inquiries or corrections to Press Releases, please reach out to GlobeNewswire.