GlobeNewswire
Barclays (BCS) Sued for Inaccurately Disclosing Ex-CEO's Ties to Jeffrey Epstein – Hagens Berman
HAGENS BERMAN, NATIONAL TRIAL ATTORNEYS, Encourages Barclays PLC (BCS) Investors with Substantial Losses to Contact Firm's Attorneys, Securities Fraud Class Action Pending
News provided by
Hagens Berman Sobol Shapiro LLP
Nov 20, 2023, 11:24 AM ET
SAN FRANCISCO, Nov. 20, 2023 (GLOBE NEWSWIRE) -- Hagens Berman urges Barclays PLC (NYSE: BCS) investors who suffered substantial losses to submit your losses now.  

Class Period: July 22, 2019 – Oct. 12, 2023
Lead Plaintiff Deadline: Jan. 2, 2024
Visit: www.hbsslaw.com/investor-fraud/BCS
Contact An Attorney Now: BCS@hbsslaw.com
         844-916-0895
Barclays PLC (NYSE: BCS) Securities Fraud Class Action:
The complaint alleges that Defendants made false and misleading statements and failed to disclose that:
(1) contrary to his false public statements and assertions to Britain's Financial Conduct Authority ("FCA"), Barclays' ex-CEO Jes Staley had a very close relationship with Epstein;
(2) Staley was reportedly aware of Epstein's criminal activities and may have even sexually assaulted a victim who had previously been trafficked by Epstein;
(3) Staley's close, personal relationship with Epstein, and potential criminal activity, if discovered could bring reputational, legal, and financial harm to Barclays;
(4) as a result, Barclays' response to the FCA inquiry regarding Staley's relationship with Epstein was materially false; and
(5) Barclays, having become aware of information contradicting its response to the FCA's inquiry, then failed to update the response so that it would be accurate, or otherwise take any meaningful action.
Investors began to learn the truth on Nov. 1, 2021, when Barclays announced Staley's departure after becoming aware of the FCA's preliminary conclusions regarding the company's and Staley's characterization of the Epstein relationship.
Subsequently, the Financial Times reported that Staley and Epstein exchanged 1,200 emails over a four-year period and, just before joining Barclays in 2015, Staley sailed his yacht to Epstein's island in the Caribbean.
Finally, on Oct. 12, 2023, the FCA announced that "Staley recklessly approved a letter sent by Barclays to the FCA, which contained two misleading statements, about the nature of his relationship with Jeffrey Epstein and the point of their last contact." The FCA fined Staley, barred him from the financial services industry and observed that Staley's emails described Epstein as one of his "deepest" and "most cherished" friends.
Each of these events drove the price of Barclays American Depositary Shares lower.
"We're focused on investors' losses and are investigating whether Barclays may have intentionally misled investors about the nature of the Staley-Epstein relationship," said Reed Kathrein, the Hagens Berman partner leading the investigation.
If you invested in Barclays and have significant losses, or have knowledge that may assist the firm's investigation, submit your losses now »
If you'd like more information and answers to frequently asked questions about the Barclays case and our investigation, read more »
Whistleblowers: Persons with non-public information regarding Barclays should consider their options to help in the investigation or take advantage of the SEC Whistleblower program. Under the new program, whistleblowers who provide original information may receive rewards totaling up to 30 percent of any successful recovery made by the SEC. For more information, call Reed Kathrein at 844-916-0895 or email BCS@hbsslaw.com.
About Hagens Berman
Hagens Berman is a global plaintiffs' rights complex litigation law firm focusing on corporate accountability through class-action law. The firm is home to a robust securities litigation practice and represents investors as well as whistleblowers, workers, consumers and others in cases achieving real results for those harmed by corporate negligence and fraud. More about the firm and its successes can be found at hbsslaw.com. Follow the firm for updates and news at @ClassActionLaw. 
Attorney advertising.
Past results do not guarantee future outcomes.
Services may be performed by attorneys in any of our offices. 
Contact:
Reed Kathrein, 844-916-0895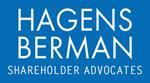 NOTE: This content is not written by or endorsed by "WJBF", its advertisers, or Nexstar Media Inc.
For inquiries or corrections to Press Releases, please reach out to GlobeNewswire.