EIN Presswire | Newsmatics
War on waste moves to the dog dinner bowl: Australian pet food co launches dog food from circular economy ingredients
News provided by
EIN Presswire
Nov 20, 2023, 4:00 PM ET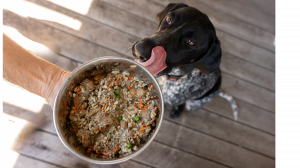 Healthy dog about to eat a Planet A Meat-Free Dinner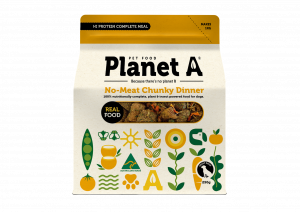 The front of a pack of Planet A No-Meat Chunky Dinner
Australian pet food company gives dogs the juicy and fibrous meaty mouthfeel they crave…without meat, in the launch of Australia's freshest entovegan pet food.
Dogs don't necessarily need to go vegan. As omnivores, dogs can happily and healthily enjoy at least a few vegetarian meals a week. And help save the planet, 1 dog dinner at a time - as flexitarians."
— Amanda Falconer
NEWCASTLE, NSW, AUSTRALIA, November 21, 2023 /
EINPresswire.com
/ -- Many pet parents are adopting one of pet food's hottest trends: raw, fresh and high meat diets. However, high meat diets typically have a high environmental impact. While many pet parents are resistant to turning their dogs vegan – although research shows they could - Planet A Pet Food helps people move to a flexitarian diet for their dogs.
Today Planet A launches Australia's freshest, entovegan dog food, combining upcycled veg and insect protein, with a food-grade plant-based meat analog, that's being used in restaurants and food service around the country.
"People have the idea that their dogs should eat meat, and a lot of it," says Planet A founder Amanda Falconer. "But that's not actually true. More and more research is emerging that shows
feeding your dog a vegan diet is a healthy choice
...with less vet visits and fewer health disorders than dogs fed on conventional kibble. And increasingly, people are interested in trying this - as long as it's healthy for their dog."
Even though dogs don't have a requirement for the ingredient – meat – but the nutrients it provides, giving dogs the pleasure of the taste and texture of meat was also important. Working with small animal nutritionist Dr Anna Sutton, Planet A Pet Food created nutritionally complete meat-free food that dogs love, featuring human food-grade plant protein, that looks and tastes like meat, but isn't.
The Planet A No-Meat Dinners also combine insect protein, food by-product ingredients together with sustainably harvested algae. Consumers just add water to rehydrate the food, so that it's fresh, when they need it.
Food by-product ingredients include:
- Black solider fly larvae protein, produced using traceable pre-consumer food by-products, like bread from Bakers Delight, excess stock from Simplot and unconsumed food from McDonalds. The production of 1 tonne of insect protein powder creates 2.5 tonnes of insect fertiliser and utilises 14 tonnes of food by-products, preventing an estimated 28 tonnes of greenhouse emissions, resulting in a net offset of over 25 tonnes of carbon emissions per tonne of protein powder.
- Vegetable powders from Australia's largest tomato processor, Kagome. They've developed LycoFibre
®
, an antioxidant-rich ingredient produced from tomato skins, and NinjinFibre
®
carrot fibre. About 25% of carrots used for juice is waste, and so Kagome's drying process converts 7000 tonnes of carrot pulp per year into 700 tonnes of value-added powder.
- Vegetable powders lightly dried from out of spec (size-wise) veg and the leaves of cabbages, broccoli and cauliflower. These are also used in human food snacks.
While many studies have demonstrated the environmental impact of food and livestock production (GHG, land and water use) this has largely been related to human diets. Up to a third of greenhouse gas emissions globally come from the food system and pet food accounts for about 25% of that and growing. About a quarter of all food grown never leaves the farm and Australia discards about 7 million tonnes of food every year.
However, a recent study, looked at the
environmental and food availability impact of dog and cat diets
. For example, if dogs moved to a nutritionally sound vegan diet globally:
- That would free up land equivalent to the size of Saudi Arabia or Mexico.
- Would reduce GHGs equivalent to that produced by the UK or South Africa
- Would make food available to feed additional people equivalent to the population of the EU"
42% of Australians have either reduced meat consumption or stopped eating it altogether. They have about 2.7million dogs between them. A 2019 study showed that
35% of owners whose pets ate conventional diets
, were interested in switching them to a vegan diet.
Planet A founder Amanda Falconer, says she's not necessarily asking people to turn their dogs vegan. They're recommending a flexitarian approach.
"Even though I'm someone who embraced a vegan diet myself almost four years ago, I know that the majority of people will more readily be meat reducers...and that can still have an enormous impact," she says. "What we do for ourselves, we can do for our dogs...and as omnivores, dogs can happily and healthily enjoy at least a few vegetarian meals a week. And help save the planet, one dog dinner at a time."
Amanda Falconer
Planet A Pet Food
email us here
Visit us on social media:
Facebook
Instagram
Other
NOTE: This content is not written by or endorsed by "WJBF", its advertisers, or Nexstar Media Inc.
For inquiries or corrections to Press Releases, please reach out to EIN Presswire.